As you may remember from my pre Christmas rant, I find getting into the mood for the whole thing quite difficult! Not the religious side, although it can be a strain thinking of new ways to tell the story. (Good one this year - Nativity Blog, where characters have their own blogs, Can't think where that idea came from!) I get lots of present buying angst and generally grump about a bit. But last night I counted up all the christmas cards I have made and it comes to 96!
Tick!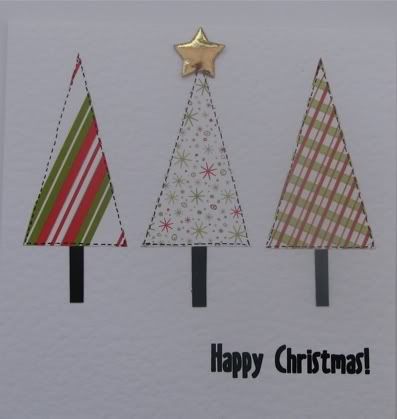 This is the prototype. DCWV christmas stack triangles and a squishy star on the top (naff but i love them and anyway i have 100's to use up!). The wording is now in a different font and centred, some trees have a line and squiggle outline which looks funkier and I started using some of my BG Dasher paper. Oh what a joy it is to use! (Silver stars with that though) I think it may be a bauble next year although not really very religious (Christmas trees have a sort of christian link but even they are stretching it) I have the QK nativity dies but they are a pain to cut out. Still if I have a craft robo next year i can do babies and angels and everything!
And we have ordered quite a lot of stuff online and it is all on its way

Tick!

So suddenly life seems a bit better. Only the presents to wrap and Christmas letter to write and cards to sign address and post, but then it is only December 6th so i can breathe again now and enjoy life. All the people doing Shimelle's class are doing such lovely pages about christmas. I suppose i could just get some grinch and Scrooge stickers and join in next year but the very thought makes me hyperventilate. One of these days I will do one of her classes becasue they look such fun! But probably not christmas.
I was diverted in my evening off yesterday from Christmas cards to doing the latest Daring cardmakers midweek challenge. It has been a while since I have done one so I felt I ought to. The recipe was 3 pp, 5 flowers and one ribbon
Sorry it's big but as it has taken two hours to load I ain't changing it now... Also a bit pixellated, bleurgh
American crafts Bookshelf papers. Love those bright colours but they have turned out to be hard to use! I decided that 3pp meant 3 patterns and you could use other papers. So I did. Actually even more of a cheat is the fact that the boots are Cosmo cricket wanted which have a faint stripe in them, but I'm not counting that. Flowers cut from more AC paper. Ribbon is from that ATDML order. Did I mentio another teeny order for Christmas pressies? 4
4X4 Posh Pig journals
. They have arrived already. They were only £2 each and they came with more free ribbon. Which once more matches the things I bought. mel and Jill i want to marry you and have your babies!