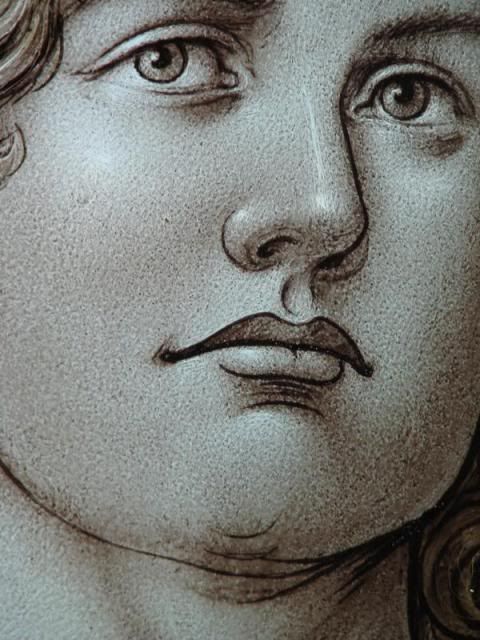 Phil took a photograph of this beautiful face yesterday.
The detail is just amazing.
Strangely she looks like one of the girls in his Church.
Strangely, because this beautiful face lives in his church.
And sadly, no-one ever gets to see her - or the others, close up like this. (Just look at that tiny double chin!)
But at the moment the Church is being painted and so Phil nipped up the scaffolding and took photographs of the church and the stained glass windows in detail.
Yes, this is a face on a stained glass window.
I am glad I didn't realise until I saw the pictures just how high up the scaffolding was that Phil climbed up in a church all on his own. Otherwise I would have tried to forbid him, we wold have had a row and I wouldn't have seen these lovely pictures. ("why should take anyone with me. If I fell I'd still be dead")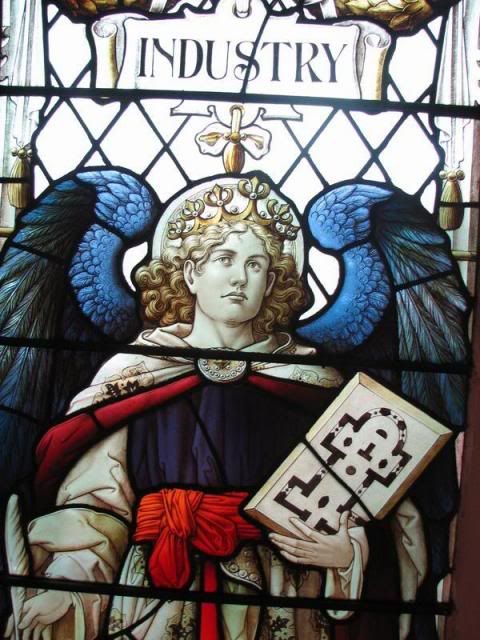 Here is a bit more of her. can't show you the whole panel as there is scaffolding across her but maybe when the Church is finished you can see how high up she is. How people can't see the detail in the face. I find something intensely moving and spiritual in all of this. That the artist cared enough to put so much work into something that people can't really see and appreciate. But the artistry is there. Part of the Church's own worship of God.
There are four angels altogether who each remind us of the "key elements" of being Christian, which are apparently,
Industry, Religion, Benevolence and Education.
I am very excit
ed that I got my Craft Robo (jimbo) to work without me actually bursting into tears an saying I am useless!
Here is my first cut out (I'm not saying how many goes it took til I could cut out...)
I have also made the exploding box ready for the class at Imagine That. Emma chose Colour Me Silly by BG and it makes for a very colourful
box! (I'm about to take it into the shop - hope she likes it!)
The last photo is a card for my playing card art journal for the year. It is an idea from
emily Falconbridge
and i have decided to make it a spiritual one by reflecting on on of the Bible readings set for the week. I'm not altogether pleased with it. I think something this small needs a lot more planning before you stick down. Hopefully by the 52nd I'll have cracked it!
Right I'm off to play with Susan now! A day of crafting. I love it!