I think I'll go and see my friend Big Ears!"
One of those things I say on a lovely day like today and part of a joke that is just a little too rude for this blog (not crude for a change, just sweary) but that will keep me snorking to myself all day in boring meetings (most aren't but anything involving numbers makes me light headed) (and snork is the noise I make when I laugh at rude stuff)
Anyway the sun is shining and I so love getting up in the daylight again. Clocks go forward soon (on Mother's Day which is so wrong. That should be lie in day not get up extra early day). Busy day but wanted to catch up with the blog as
1: I have monogram cards to share. i tried to put one on the
Daring Cardmakers
blog but it ate Jo's and as she is well scary in real life I took mine away again quick!
If I am honest I didn't make them this week. One was as part of the card making Club at Church and the other was for Hywel's birthday. But I think they are good, if simple ideas of how monogram cards can work.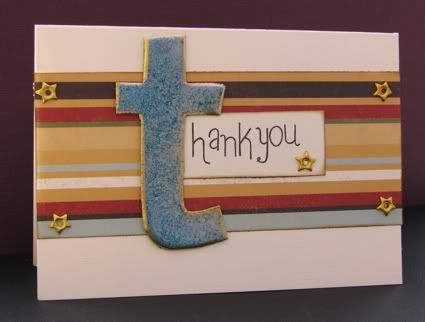 This is a cereal packet "t" which has utee triple embossing on it. I think chipboard would have held the powder better as I didn't intend quite the shabby chic look! It was outlined with krylon pen. "hankyou" was printed on card. Add one strip of stripy paper, and 5 eyelets added with a cropodile (got to love its action!) and theres your card.
3 Bugs H and stripy paper. Opened up my dictionary and found lots of words beginning with H which i wrote on with white pen. Attached with big green brads. don't you love it when you find something JUST the right colour in your stash?
2: Here is the LO I was struggling with. And it is pretty simple really!
As I put it out again to assemble the BG Scarlet Letter paper fell in a different place and I thought - that's it! The blue I needed has come from a strip of blue vellum which I doodled white flowers over and attached with brads. The little white dots are... little white dots with my precious white pen too. I printed "party @ 10" on to card using 2 peas wild child font and left a small outline round each letter. The index card
comes from
here
such a fun idea! And I struggled to attach it with the clip until I realised I could use it as a highlighting circle. Sweet! Circle clip from
Carolyn's shop
absolute bargains and so versatile!
3: Carys wanted me to take her photo with a straight banana. It is a real struggle for a mother with a filthy mind I can tell you. I think this one is innocent enough anyway.
And she does have an orange moustache. It is from peach and carrot smoothie.
4: It is St David's Day. Hurray! "Every day when I wake up I think the Lord I'm Welsh" as Catatonia will tell you.
BUT it is also the day that every mother in the land dreads.
World.
Book.
Day.
"dress up as your favourite character from a novel" AAAAAAAAAAAaaaargh.
I finally remembered to ask Carys on Tuesday morning what she wanted to be. "Alice in Wonderland". Great. Anyway with a bit of ingeneious thinking on my part I came up with something rudimentary that might work. I was just about to proudly share my news with her when she said "I've changed my mind want to be Pinocchio". She saw my face and sia d rather hurredly and in a slightly scared voice "it's ok I'll be Alice"
She is wearing a dress worn by a bridesmaid at my mother's wedding and a pinny worn in the 50's by a friends mum working as a waitress.
Please
let it come home ok.
5: I cut the boys hair last night (they refuse to go to the barbers. I am NOT a v. good hairdresser though) . Managed to give Emrys a little bald patch behind his ear. well when i say little, it's not really. He hasn't noticed. yet.
6: Tomorrow we should find out about senior schools. Carys has two siblings in the one just around the corner so should be a shoo in. But what if Carys didn't hand in the form? And the school just thought I wasn't bothered? And she has to go to one of the ones with spaces because no one wants to go there? For those who dread tomorrow my prayers are with you cos it is so hard when it your children's future education is at stake.