and proud of it!
Course i am crying tears of frustration at the moment as my finely honed and amusing blog post about today has disappeared in a bizarre blogger mystery.
I'll try again
I have been sobbing my way through a nights tv while cross stitching (3 years in and about 2 to go I reckon...)
The Estate Choir - about starting a classical choir on the Blackbird Leys estate in Oxford which will sing at the Albert Hall
Sob!
An episode of the West Wing series 4. Some of this I just don't understand, some is very funny, some intelligent and even though i know it is designed to be schmaltzy there is still the odd
Sob!
that escapes.
And then happy reunions on Lost.
Sob!
(though I would also like to know what soap powder they use because Michael's orange shirt was immaculate after days in the jungle...)
Had a FANTASTIC service at my church in Harold Hill today. The tiny congregation has grown from about 10-15 people to anywhere from 15 to 30 each Sunday. This is thanks to 3 new families who have come. we have gone from knowing everyone's names to having names we can't pronounce so we did a name learning session today and Esther one of the new people was interviewed by me about her life and faith. Then we shared communion together. Communion is where we remember Jesus sharing a last meal with his friends and sharing his life with us by dying on the cross. Through bread, wine and prayer together we are in communion with god and with each other. It really felt like that today. praise God!
Then an afternoon in the sauna/conservatory card making. I was listening to 'Tell no-one' by harlan Coben on CD. It is a great one to listen to and I can't wait for more!
Managed to make some cards for the
Crafts by Carolyn sketch challenge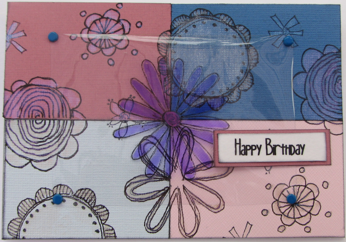 Fontwerks stamps and twinkling H2O's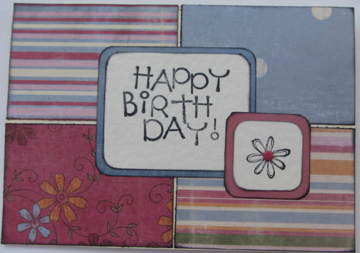 SA June paper, Purple Onion alpha stamps
My first SA kit card with PO ribbon phrase stamp in the 'slit' and the fontwerks stamps you may soon tire of seeing...
Carys then got in on the act with a card for Tadcu for Father's Day
.
American Crafts paper (we went through my whole Crate Paper collection and none had the right green which was funny as they are all green. Oooh no, one did but it did not meet with Princess Carys' approval); QVC box letter stickers (love having so many alpha stickers!) I knew it needed something else and suggested brads. Carys chose and placed then and think they look fabby. She inked round the edge of the patterned paper - and a bit over it as well (ah just like her mum!)
She also became a sixer in brownies today as she will go up to Guides in September. She carried the flag in Church parade. I made her wash her hair to mark the occassion so it looked lovely and curly. So we had to have a photo session!
NB I
would
photograph the boys as much but they don't like modelling really...