So this is getting boring. Still not very well.
I am meeting up with girls from the Crafts by Carolyn forum next weekend
So excited!!!!!!
I know, it doesn't take a lot to please me!
Today - my first day off in oodles knows when I have to get ready for Saturday.
I need to make

my card for the competition - theme Romance. (May double up as card for hubby for anniversary next week)
my double vision card swap. This is where you create a card and give someone else the same bits and see what they come up with.
my name badge
the secret mission I have been given (not telling what it is cos it is a secret)
Phil's birthday card for tomorrow
one of his pressies
But I am really under the weather and it has taken me a whole morning to set up my craft stuff and almost make my card for the competition which I don't like. Moan, moan, moan.
Moan, moan, moan,
moan, moan,
moan.
There now you can feel as fed up and miserable as me.
I did get to lie in and finish reading a book that I only started last night tho
ugh -
Most enjoyable!
She has only written three books but they are all quite different, fun, quick reads.
My fave is still the first PS I love you. But I like all three of them. She is very young and beautiful too. It's lucky I'm above jealousy.
Grrrrr....
One of the reasons for this blog is to post piccies so I shall start a pic of the day.
Here is today's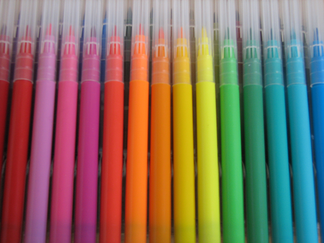 Yes it's some felt tip pens.
Very arty eh?
More useless pics tomorrow...