Well we watched...
and very funny it was too. haven't seen it since it came out in 1994. we all enjoyed it. PHil especially enjoyed Cameron Diaz. Carys was shocked that her skirt was so short that when she danced you could see her
knickers
.
And then I made some cards - result!
I can't show you the Double Vision swap cards because Helen who I swapped with hasn't seen them yet.
Double Vision is where you make a card and seal it in an envelope, then you put the identical papers, embellishments, card etc in a kit and swap with someone else. At the end you open the envelope and see what different cards you have made - and then send the one you have made in the post back to the person who donated the bits and pieces.
Still with me?
Well you'll have to wait until at least Thursday now!
But I can show you my template cards.
For the forum folk who did not go to Birmingham the talented Kathy B posted a template to follow. And she graciously allowed those who had spent a lovely day playing to have a go too.
Here is the template
And here is my first attempt.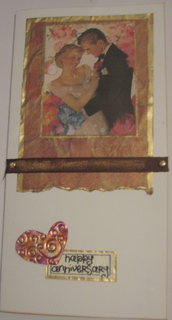 You may think "but that looks nothing like the template". You would be right. It got changed somewhat. But I like it!
The backing paper is actually DCVW orange retro paper that I crumpled and used alcohol inks on and lined with Krylon pen. The image is a freebie off the interweb. The heart is a die cut embossed with a quickutz embossing thing and covered in matching alcohol ink.
The second attempt was more successful!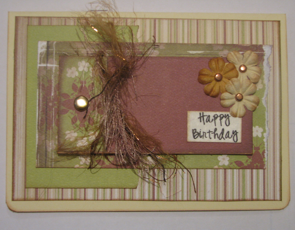 using some of my delish Crate Papers.
I love using card patterns - even if the results look nothing like the original