"You'll never keep this blog up" says Phil.
"I will" says I
"No you won't" says Phil
"Yes I will" says I in slightly hurt tone that he could think such a thing.
"How long have you ever kept a diary for?" says Phil
"Two weeks".
The silence spoke volumes...
I've only missed four days. I know how disappointed you all are. NO not (just) because I'm a BigHead.
But becase I HATE it when I log into a blog to find it hasn't been updated.
Profuse apologies.
So what's got in the way?
work
still feeling a bit icky
work
being a lazy wotsit.
I ahve even got as far as opening up a fresh clean webpage but nothing has come out. I could have shared
the fact that Phil got chucked (or would that be clucked) off being a Mod on a chicken forum. (there's only room for one cockerel you know). He's very proud of being the Bad Boy.
Carys went to a Hawaian disco at school
the boys have done their end of year exams (but its only May!) with seemingly no revision and come home and say 'it was easy' (Go on, comment on that Hywel I dare you)
But now you will never know...
My work week has had some great news - one of the Church members has had a mastectomy but only needs tamoxifen as further treatment which is great! But mostly things have been really tough and got a lot more difficult yesterday.
So I'm left a bit of a wet rag today. Will really needs God's help and inspiration to put the Sunday service together. (Well he does most of it every week to be honest, its just normally my needing help is not so obvious and he allows me to take the credit. he's good like that!)
I've got one story to share this week. I like stories.
It is called 'the Hermit's gift'
I've been cheering myself up/distracting myself by listening to Magical Trevor
The kids love this song and sing it all the time. Apparently this is an udated version and "not quite the same". They haven't got over the change in the Pingu music either and see that as sacrilege. (Don't think they they are too old for Pingu. It is their favourite dvd to watch in the car. In an ironic sense. Of course)
I've also made a few cards. I tried to unwind last night card making but I was so wrung out they were, quite frankly, pants. So I may have to see if they can be rescued. Or just thrown away.
But this week is Mum's birthday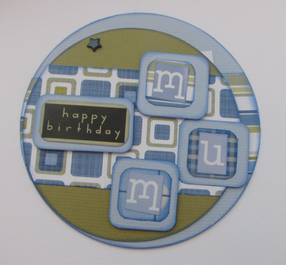 (old Sa kit card with new letter stickers1 It can go on the fridge)
and a school friend is 40.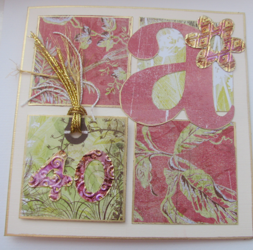 (BG Urban couture and some inked and embossed sizzix numbers)
Carys made a card for mum using my new QVC box set. It took forever to find the envelopes as they cunningly pack everything away. She thinks the outside of the card is soooo funny.
I think what she wrote on the inside is funny too

And I can now reveal the DV swap as the postman excelled himself and sent them both ways really quickly.
Here is Helen's original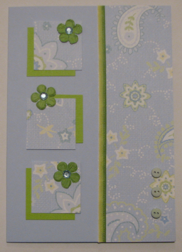 and here is mine
Another part of the cheering up has been a trip to Artbase. The ever trendy and talented Sue O sent me enough Artbase stamps to finish my card AND share with Anita. I also had to buy materials for a card making stall I am doing at a community event on Sunday. So I was able to spend almost £50 and all I spent really was £1.38. well you can't keep to £25 can you?
I bought...
Distress ink pad in tattered rose
A QK primitive heart die
A Maya Road tin full of chipboard flowers
Chatterbox Rosey Embellishment Set

How hard is it to choose stuff when I don't have to pay? I tried to mix what is useful and what is fun but I don't know what to choose? Only thing now is that I have 46 stamps to collect before I can do it again!!!!